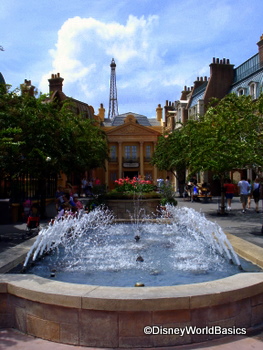 The Epcot International Food & Wine Festival is a yearly celebration of food and spirits from around the world, running in 2010 from October 1-November 14. This year, the festival is celebrating its 15th anniversary, and they've pulled out all the stops!
At the festival, you can try food, wine and beer at international booths situated around the Epcot World Showcase; attend free and low-cost seminars on food and wine with renowned chefs; and indulge in decadent meals from around the globe at culinary events at various Walt Disney World restaurants. Then you can top it all off with one of the nightly concerts – Sugar Ray, Air Supply and Boyz II Men are just a few artists who will visit the Epcot America Gardens Theatre stage.
Here's more on what you can expect:
International marketplaces:
More than two dozen international booths will be set up around the World Showcase Lagoon, showcasing cuisine from around the world. Small plates will be available for purchase – some of which will be eligible as snack credits on the Disney Dining Plan. New this year is South Korea, Belgium, and Charcuterie and Cheese booths. You can also get a Marketplace Discovery Passport and receive stamps from all of the booths! Click here for Food and Wine Festival Booth Menus.
Free and low-cost events:
Culinary demonstrations and food and wine pairing seminars will be held daily for as little as $8 per person, with booking for the general public available Aug. 28 (Tables in Wonderland members and Annual Passholders can book on August 26th). And there are many free events to take advantage of, such as book signings and author meet and greets, bottle signings, short films and seminars. Click here for information onFood and Wine Festival free and low-cost events.
Special culinary events:
These more pricey events are for those wanting to truly indulge in a food experience for the senses. Booking for these events began on July 20, so hurry and get your spot reserved (call 407-WDW-FEST). Whether you'd like to get a taste of the festival before anyone else (Delicious Discoveries First Bites, Sept. 30, $195), experience a night with Cat Cora herself (Celebrating Family & Friends in the Kitchen at Kouzzina, Oct. 29, $140) or feed your cheese obsession (Cheese seminars, Saturdays, $75), there's something for every foodie. Click here for 2010 Epcot Food and Wine Festival Special Events.
Eat to the Beat! Concerts:
Each night, various artists will play concerts at the Epcot America Gardens Theatre. Showtimes are 5:15 p.m., 6:30 p.m. and 7:45 p.m. nightly. Taylor Dayne starts off the concert festivities from Oct. 1-3, while Big Bad Voodoo Daddy pulls up the rear from Nov. 12-14. In between are a host of artists such as Jon Secada, Taylor Hicks, Sister Hazel and more. Click here for the 2010 Eat to the Beat! Concert Schedule.
Hopefully that helps lay out what you can expect from the 2010 Epcot International Food and Wine Festival! You can keep you to date with the Disney Food Blog's index page on the festival here! Or check out the 2010 Epcot Food and Wine Festival Guide and Map!
Be sure to follow us over on Twitter (@DisneyBasics) to discuss your Food and Wine Festival plans!
This post is part of the DisMarks.com Disney Blog Carnival! To read more great Disney posts or learn how you can be part of the carnival, click here!