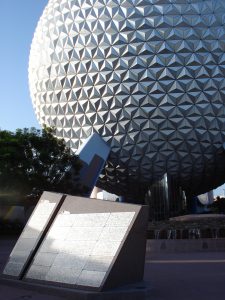 "When to go to Disney World" is an important question, affected by both personal and external factors. Personal things, like when your kids have school breaks, when you can take vacation from work, and how your finances fluctuate greatly impacts when you can head out to WDW. While I can't help with any of that, I CAN help you to consider the external factors:
WEATHER: Weather in Orlando fluctuates between 50 and 95 degrees farenheit, with humid, HOT summers and pleasant, cool winters. The Atlantic Ocean's hurricane season is in effect from about June through November each year, though Orlando is far enough inland that it escapes most landfalls. Hurricanes bring heavy rains and winds, however, and have caused many Orlando vacationers to cancel; consider travel insurance when booking trips during August, September, and October.
That said, the best times of year to visit WDW weather-wise are Autumn, Winter, and Spring. Personally, I enjoy weather that's warm enough that I can go for a swim, but not so sweltering that I'm sweating all day. That kind of weather happens most often in October and April/May.
CROWDS: No doubt about it, Disney World can get crowded! Many of us have horrible memories of visiting the Magic Kingdom during the summer or Spring Break, standing in two-hour lines in the hot sun, pretty much bored out of our minds. The rest of us live in fear of having that experience.
Well, guess what! There are ways to avoid crowds–or at least lessen their impact on your vacation–at Disney World. One of my favorite tools to avoid crowds is touringplans.com's Crowd Blog, but there are two main strategies to follow that will really put you ahead of the game:
Avoid School Breaks: This will be tough if you have kids or if you don't want to take your kids out of school for your vacation. However, if this isn't the case for you, visiting while USA public schools are in session is the number one way to avoid crowds at Disney World. Basically, NO=Summer, Spring Break, and Christmas; YES=Autumn, January-February, and May. Here's a great (and SIMPLE) list of the most and least crowded times at Walt Disney World.
Avoid USA Holidays: The parks fill up during three-day weekends, so try to avoid the major ones: Martin Luther King day in January, President's Day in February, Memorial Day in May, 4th of July, Labor Day in September, Columbus Day in October, Veteran's Day and Thanksgiving in November, and Christmas in December. Here's another great list of USA Holidays for several years out.
SPECIAL AND SEASONAL EVENTS: Disney World is no stranger to a celebration and is known for its seasonal events. Here are a few of my favorites to help you as you consider when to visit: