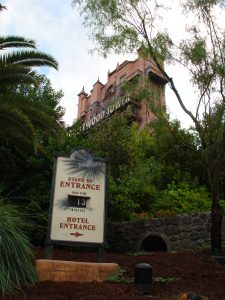 Disney World is often crowded, and it's not uncommon for rides to have wait times of 60 minutes or more. Because of this, many visitors find it useful to create a time effective touring plan, or strategy, for visiting parks and riding rides. With a touring plan, you can schedule to visit the most popular rides and restaurants when they have the shortest lines and wait times.
I know you hate the idea of "scheduling" your vacation; so do I. But just doing a small amount of planning can help you save time and money in Disney World. Just think: by creating a touring plan, you can easily save yourself countless hours of standing in lines waiting for 4-minute rides!
Touring plans can be brief or extremely detailed. It all depends on what you want and with whom you're traveling. You can create them yourself, ask a travel agent for help, or engage the service of several companies who can customize touring plans for you.
What's a touring plan look like?
Touring plans are usually just step-by-step itineraries, crafted to take advantage of the times when rides, parades, and events are least popular with other guests. Here's a sample touring plan from TouringPlans.com, which is the website for one of the best Disney World guidebooks on the market: The Unofficial Guide to Walt Disney World.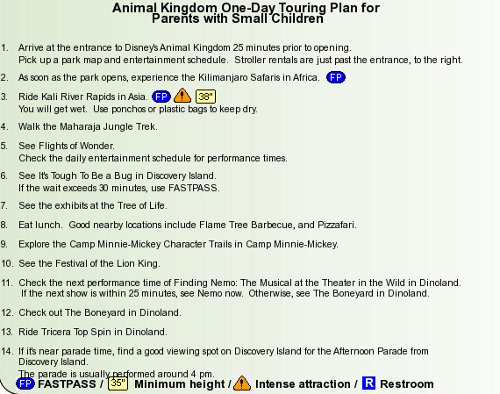 While this is a less-detailed touring plan for a day at the Animal Kingdom, you can easily create more detailed touring plans or broader touring plans, based on how scheduled you'd like your vacation to be. For more examples of touring plans, fill out the checkboxes on this page and submit to see samples that fit your criteria (be sure to check the "free plans" box).
We recommend that if you're traveling with a lot of people, or with several little kids, you make a more detailed touring plan. This will allow you to schedule around naptimes for the little ones, and around what will likely be large meal times for a group or family.
How do I make one myself?
Making a touring plan yourself may take a little research and ambition, but it's absolutely possible. In fact, we recommend doing a few touring plan drafts so that you get a better idea of the geography of the theme parks and which rides are the most popular.
For that research:
Look through a guidebook or two (our favorite is the one we mentioned before: The Unofficial Guide to Walt Disney World) to figure out which rides, restaurants, and attractions might be best for your family/group.
Study some Theme Park Maps to get a better understanding of where rides and restaurants are located.
Figure out what the most popular attractions are in each Theme Park. These are usually the ones to visit early in the morning, before the lines get long. We believe these are:

Magic Kingdom: Space Mountain, Splash Mountain, Big Thunder Mountain Railroad, Peter Pan's Flight, Winnie the Pooh, Buzz Lightyear's Space Ranger Spin, Haunted Mansion
Epcot: Soarin', Test Track, Mission: Space
Disney's Hollywood Studios: Toy Story Midway Mania, Rock-n-Roller Coaster, Tower of Terror, American Idol Experience, Fantasmic (the night time show)
Animal Kingdom: Expedition Everest, Kilimanjaro Safairs, Kali River Rapids, Dinosaur, and the stage shows–Festival of the Lion King and Finding Nemo, the Musical.

Figure out which of these rides on top on your list; they're the ones you want to head to first in your touring plan.

Visit TouringPlans.com, where there are more sample touring plans as well as some great mini-guides to each theme park.
Now, take a shot at writing up a broad touring plan for one of the theme parks you'd like to visit. Just list the rides and attractions you don't want to miss, schedule the most popular ones in the morning, and schedule the rest according to importance and geographic location. Don't forget to add in time and restaurant choice for breakfast, lunch, and/or dinner.
Once you have this broad overview, consider if the fastpass service can help you save time. With this service, you can avoid waiting in longer lines by "reserving" your ride time in advance. Here's a primer on how fastpass works, and which attractions offer fastpass. If you're going at a particularly busy time (look here to determine the busiest times of the year to visit WDW), you will likely want to use fastpass for most of the more popular attractions.
Finally, if you'll be staying at a Walt Disney World Resort Hotel, consider which parks are offering Extra Magic Hours on the days you'll be in Disney World. While this shouldn't change your touring plan significantly (you'll probably want to visit the same attractions is about the same order), it could lengthen your day and/or offer you the opportunity to avoid even more crowds.
How do I ask my travel agent about these?
If the research and development above seems a bit too intensive for your first trip, consider working with a travel agent to book your hotel, flight, and other reservations. If you work with a Disney-trained, specialist travel agent (called "Disney Vacation Specialists"), s/he should be able to develop touring plans for you, or help you to develop your own.
Can't I just throw money at it?
Of course you can.
TouringPlans.com has a subscription service where you can access their detailed touring plans (a WIDE variety of specific touring plans), theme park "cheat sheets," and research articles on Walt Disney World for $8.95 per year. Subscribe here.
Ridemax is a relatively new piece of software that will generate touring plans for you. For ~$20/3 months and ~$30/year subscriptions, the investment might be worth the time-savings for a lot of folks. We haven't used the software, but SoloFriendly.com reviews the service here.
Tour Guide Mike (TGM), a service created by a former Walt Disney World VIP tour guide, offers an online vacation planning system for $21.95. This can be used for only one vacation; if you wish to renew for another vacation, the price could be discounted.
So, as you can see, there are several options to help you plan the best possible Disney World vacation. While this may seem stressful in and of itself, the most important tips to keep in mind are these:
Visit the most popular rides in the early morning
Schedule some down time in the afternoon for napping and relaxing
Choose up to four main attractions in each park that are must-sees; after that, relax and go with the flow. Nobody can do EVERYTHING in Disney World. Remember, this is your vacation!
Relax. Have fun. And feel free to send me your touring plans for feedback! 🙂