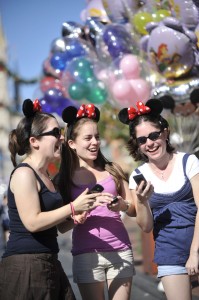 We all hate that feeling of panic once you realize you've lost an important item — perhaps a cell phone, a camera, sunglasses, or your child's cherished stuffed animal. Luckily Disney World is used to this happening often, and there is a great Lost and Found system in place for helping you get your lost item back.
Disney World reports that every day, an average of 210 pairs of sunglasses are turned in and, since 1971, an estimated 1.65 million pairs of glasses have found their way into the "lost" bin. Every year, Lost and Found cast members collect more than 6,000 cell phones, 3,500 digital cameras, 18,000 hats and 7,500 autograph books.
Here's what to do once you've lost an item:
Call (407) 824-4245 between 9am and 7pm Eastern time, then press zero to speak with an operator. Ask to speak with someone in Lost and Found. The operator will ask where you lost your item (such as a certain park or resort), then they'll direct you to the correct Lost and Found department.
Once directed to the appropriate Lost and Found department, don't hesitate to leave a voicemail if a cast member doesn't answer. Make sure to say when and where you think it was lost, and give a good description, including any unique qualities of your item. For a phone or camera, tell them some recent photos that were taken, give colors and description of cases, and so on.
If you're not sure where your item was lost and it could be in more than one location, just call back and ask the operator to be connected to the next Lost and Found department on your list.  For example, if you lost an item somewhere along a Monorail trip from Epcot to Magic Kingdom, call first to the Magic Kingdom Lost and Found, then call back and ask for the Epcot Lost and Found department.
Keep in mind that lost items are cataloged the next day, so finding your item on the day you lost it may not be possible. Stay calm and patient, and you may end up pleasantly surprised to be reunited with your lost item.