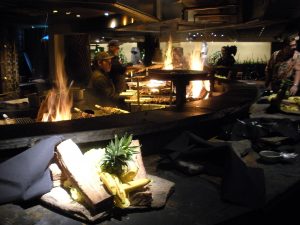 At Disney World, the dining options are vast. Where to start? If you have a family or a large group of friends, consider heading to one of Disney World's interactive restaurants.
These restaurants are both tasty and fun — at some, servers or other cast members interact with diners, while at others, there's live entertainment during your meal. Here are a few restaurants to consider during your visit.
Hollywood Studios
50s Prime Time Cafe: Be sure to eat your veggies! At 50s Prime Time Cafe, you're back home in mom's kitchen, getting served homestyle favorites like meatloaf, pot roast and chicken pot pie. There are TVs at some tables showing classic sitcoms from the 1950s, and servers here are a lot of fun. 50s Prime Time Cafe is a great choice for some comfort food favorites and friendly banter with your server, Uncle Bob, Aunt Judy or Cousin Sal. Click here for more info on 50s Prime Time Cafe.
Epcot
Biergarten: It's Oktoberfest every day at Biergarten! Long tables line the theater-like hall, where diners gorge on German favorites like bratwurst, spaetzle, sauerkraut and more. Up on stage, German performers dance and entertain the crowd. Kids are often invited onstage with the performers, so be sure to send your outgoing little one up to the front! Click here for more info on Biergarten.
Restaurant Marrakesh: Exotic and fun is the name of the game at Restaurant Marrakesh! Shish kebobs, baklava, couscous and more is found on the menu at Restaurant Marrakesh. And your mealtime entertainment is Morrocan musicians and belly dancers. If you have an adventurous group wanting to try some authentic North African eats, then Restaurant Marrakesh should be your destination. Click here for more info on Restaurant Marrakesh.
Chefs de France: Oui, oui! If you're a fan of French eats and Disney-Pixar's Ratatouille, head on over to Chefs de France. If you're lucky, Chef Remy himself will make an appearance and interact with your table. Even if he doesn't make it out during your meal, there's still plenty to be happy about, like the menu filled with authentic French favorites, like escargot, creme brulee and pommes frites! Click here for more info on Chefs de France.
Resorts
Whispering Canyon Cafe: Howdy , partner! Whispering Canyon is a fan favorite for some rootin'-tootin' fun for the whole family. Located at Disney World's Wilderness Lodge, Whispering Canyon Cafe is the place to have fun with your servers. They're always looking for ways to make your dining experience fun — there are kids' pony races, and they might even play a trick on you! Be sure to ask for ketchup — see what they do! The menu is great, too — filled with all-you-can-eat skillets of ribs, chicken, baked beans and more — as well as some great a la carte items, too. Click here for more info on Whispering Canyon Cafe.
Ohana: Ohana, located in the Polynesian Resort, is a great place to take the family or a large group.  Breakfast is character dining, and dinner is an all-you-care-to-eat Hawaiian-style feast, topped off by Ohana Pineapple Bread Pudding a la mode! Kids are welcome at Ohana — every 30 minutes or so, they'll be called up to race coconuts and learn authentic Hawaiian dances. Click here for more info on Ohana.