Disney World isn't home to just the four major theme parks — there's so much more! And in the warm months (nearly all year in Florida!) taking a dip at a water park is a great way to cool off.
Disney World is home to two water parks: Blizzard Beach and Typhoon Lagoon. Both are open from 10 a.m. to 5 p.m. during season, and both have one day of extra magic hours each week. Locker rentals are available, and it's advised to wear water shoes or flip-flops if you've got 'em! Keep in touch with Disney's park hours, though — both of these parks usually close for a month or so for renovations during the colder months.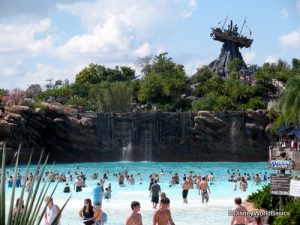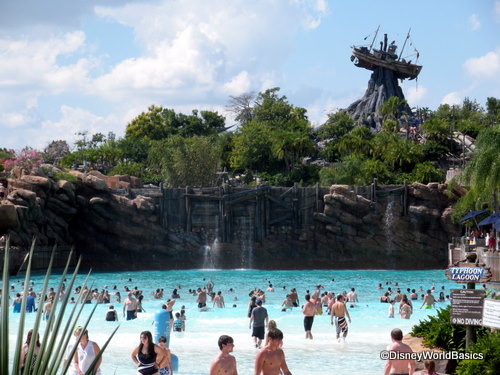 Typhoon Lagoon
Typhoon Lagoon is the older of the two water parks, and opened in June 1989. It's located in the Downtown Disney area, just across the street from Downtown Disney's West Side. Here, the theme is storm-ravaged tropical — a typhoon visited the area once, perching the Miss Tilly shrimp boat on the top of Mount Mayday, now home to may water slides.
Here, the main attraction is the Typhoon Lagoon Surf Pool — the world's largest — with 6-foot waves. Guests 8 and older can even take surf lessons before the park opens!
Crush 'n' Gusher is a newer addition to the park, where up to three guests at a time can experience a wet and wild rollercoaster-like water slide experience.
Typhoon Lagoon also boasts 9 water slides, a children's play area, the Castaway Creek lazy river, and the Shark Reef, where you can snorkel with real sharks, rays and schools of fish in a saltwater tank!
Click here for more info about Typhoon Lagoon.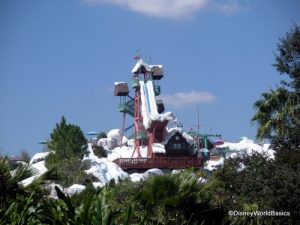 Blizzard Beach
Blizzard Beach is Typhoon Lagoon's younger brother, and opened in April 1995. It's located closest to Animal Kingdom, not far from the Coronado Springs Resort. The Blizzard Beach story is that a freak Florida snowstorm caused some forward-thinking entrepreneurs to build a popular ski resort; but when the warmer temperatures came back and the snow began to melt, they turned the resort into a massive water park. Brrr! The centerpiece of the park is Mount Gushmore, with ski lifts and a ski jump that's been "turned into" a water slide.
Blizzard Beach is known for its multiple thrill water slides. Teamboat Springs is one of the world's longest family raft rides, with rafts that hold 4 to 6 guests.
Not for the faint of heart, the Summit Plummet is a 120-foot slide where guests can reach 50 to 60 MPH as they plunge toward the pool below (did someone say "water-wedgie?"). Several other thrilling water slides call Blizzard Beach home.
Blizzard Beach also boasts the Cross Country Creek lazy river, the one-acre Melt-Away Bay wave pool, and two different children's play areas.
Click here for more info about Blizzard Beach.
Which One Should You Visit?
While both water parks offer a relaxing, cooling respite from the other theme parks, they offer very different activities for families! Typhoon Lagoon offers more family-friendly options, while Blizzard Beach has great options for dare-devils! We always suggest you keep an open mind and try both!