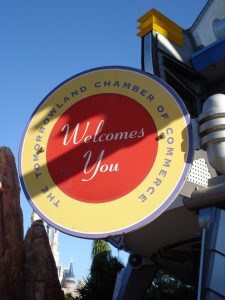 Disney World is huge—it's over 42 square miles of theme parks, resorts, restaurants, shopping, race car tracks, campsites, blah, blah, blah. Seriously. Big. And that's intimidating when you've saved up for years to take this trip and want it to be the best trip it can be!
So think of it like you would a foreign city; you want to visit Paris, but you have to figure out your way around. The first thing you do is learn a few French language terms to make your trip easier, right? Same thing with Disney World. Although they're regular old English words, they mean something particular at WDW.
Here are a few of the terms you'll need to know to get the most out of your trip. We'll use these throughout the Blog, as well.
Theme Park: This refers to Disney World's four main parks, Magic Kingdom (MK), Epcot, Disney's Hollywood Studios (this was formerly the Disney-MGM Studios; it will be abbreviated as DHS), and Animal Kingdom (AK).
Water Park: Disney World has 2 huge water-based parks, similar to Wet n Wild and others around the country. These are Typhoon Lagoon (TL) and Blizzard Beach (BB).
Cast Member: This is Disney's name for their employees. Walt Disney envisioned his theme parks as giant stage shows, so everyone who works there is a "cast member" working either "onstage," or "backstage."
Backstage: Any area of Disney World that isn't freely available to people who don't work for the Disney Company—e.g., any area beyond a "Cast Members Only" door.
Advanced Dining Reservation (ADR): These used to be called "priority seating arrangements," or "PSs", and they're the core of Disney World's restaurant reservations system. Having an ADR will ensure that you're seated at the next available table for your party size once you check in at a table service (i.e. sit-down) restaurant podium. Most of the time and at most table service restaurants, Walt Disney World Advanced Dining Reservations can be booked 90 days prior to the date you'll actually be dining.
Fastpass: Imagine that you've just joined the end of a 60 minute wait line for Splash Mountain. Now imagine you ask the person in front of you to hold your place in line for those 60 minutes while you go ride other rides and eat some lunch—and that person says yes! That's how Disney's Fastpass System works.

Go to a Fastpass ticket machine in front of any Fastpass ride, get a ticket, and go have fun elsewhere in the park. Return to the ride during the window shown on your Fastpass ticket, show your ticket to the Cast Member running the "Fastpass Return" line, and ride with little to no wait!

Downtown Disney (DTD): This is the shopping and nightlife district in Disney World. It does NOT require a ticket for entry.
Character Meal: This is a "sit-down" or "table service" meal where Disney characters make their way around the restaurant to visit with guests, sign autographs, take pictures, etc.
Resort: Disney World's full name is "Walt Disney World Resort," but usually, when we talke about "resorts," we're talking about the 23 hotels on Disney World property.
On- and Off-Property: On-property refers to anything within the 42 square miles owned by Disney World. Off-Property refers to anything outside the gates of Disney World, e.g. greater Orlando and Kissimmee, etc.
Magical Express: Magical Express is Disney's free Coach Bus transportation from the airport to your Disney hotel. This is available to anyone staying in a Disney World Resort hotel, and can save you the cost of renting a car, paying for a taxi, booking a shuttlebus, or getting a car service. Disney World is about 30 miles from the Orlando International Airport.
Extra Magic Hour (EMH): Extra Magic Hours are also a perk for people staying in Disney Resort hotels on-property. On most days of the week–based on Disney's schedule–resort guests are able to spend an extra hour in the morning or three hours in the evening at select parks. E.g., "on Wednesday, Magic Kingdom has a morning EMH and Epcot has evening EMH," means that on that day, Magic Kingdom will be open to resort guests only for an hour before regular park opening, and Epcot will be open to resort guests only for three hours past regular park closing.
Table Service Dining: "Sit down" meal, where you're seated at a table and waited on.
Counter Service Dining: A fast food-type meal, where you order your food at a counter and sit in a large seating area to eat.
Park Touring: This refers to how you spend your day in a theme park. E.g., if people want to fit in a lot of rides in a short period of time, they'll develop a "touring plan" to be sure to get to the rides when they have the shortest wait times. They'll also work into their "touring plan" when to get a fastpass for certain rides so that they can experience rides with shorter waits while waiting for their fastpass return time to come up for a more popular ride.
Wait Time: Most Disney World rides have lines, and therefore, Disney has posted large signs displaying the projected wait time from the end of the line, to when you'd be boarding the ride. Once in a while, a cast member at the end of the line will hand a red, plastic card to a guest getting in line and request that the guest hand the card to the cast member at the front of the line. The time it takes the guest to get to the front of the line and hand over the card becomes the new "wait time" on the sign at the front of the ride.

Trams will take you from parking lots to theme parks!

Monorail: Disney's elevated train transportation system. This connects Epcot with the Transportation and Ticket Center. It also connects the Transportation and Ticket Center with Magic Kingdom, and the Grand Floridian, Contemporary, and Polynesian Resorts.
Disney Transportation:Disney transportation is Disney World's free transportation system throughout the Disney World resort. It's comprised of busses, monorails, trams, and boats that takes all ticket holders and resort guests anywhere they want to go on property…for free!
Illuminations: Epcot's nightly fireworks show.
Wishes: Magic Kingdom's nightly fireworks show.
Fantasmic: Disney Hollywood Studios' nightly (though soon to be twice weekly) water and pyrotechnics show.
So there are a few of the words and phrases that will help with your planning. I'm sure there are more that we'll stumble upon as we go through the blog, but…whew…that's enough for now!