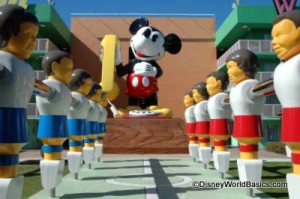 We've decided to do a series on the unofficial Disney resort fan sites that have been popping up around the web. They are invaluable resources, and the series will also give us a chance to talk about the various resorts a bit — some of our favorite topics!
Pop Century is one of Disney's "Value" resorts, which are the lowest priced resorts. What's great about value resorts is that you get the chance to stay on property for a low price, and you also get access to all of the Disney Resort Guest benefits, like extra magic hours, Disney's Magical Express airport transportation, charging merchandise items and meals to your room key, and Disney transportation.
The Pop Century Resort Site can be found at http://www.popcenturysite.com, and has great information if you're trying to decide if this might be the best resort for you.
Hundreds of recent photographs are available to show you what the Pop Century guest rooms look like, what the 3 pools are like, and even pictures of the bus stop and transportation options. This site is very useful when comparing Pop Century to other Disney resorts.
Personally, Pop Century is one of my favorite Disney resorts, and I feel it offers a fantastic value for the money. There are advantages to staying in every resort and we don't always stay in Pop Century, but it's always a great value when we do.