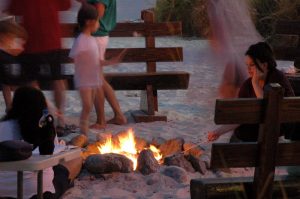 While your first few trips will likely be focused on Disney World's four main Theme Parks, Magic Kingdom, Epcot, Animal Kingdom, and Disney's Hollywood Studios, you may want to work in a day or two where you spend some time outside of the parks for a couple of reasons:
Park tickets are expensive. Even with Disney's new ticket pricing model, you can still save some cash if you spend a couple of days on the outside of those turnstyles.

Park touring can be tiring! Lots of people find that, especially on their first Disney trip, they aren't 100% ready for how much energy it takes to tour the parks (having that much fun can be exhausting!). As a result, they return home wiped out and find they need a vacation after their vacation! A great way to avoid this is to work in one or two days that you spend relaxing at the pool, hanging out in your hotel, or doing other Disney World activities that might not be quite so intense as a day in the parks.
So building in a couple of "days off" from the parks is a great idea (especially if you're visiting for a week or more). Luckily, Disney has lots of on-property options for how to fill those days (and some of them are even low-cost or free)!
Ideas for High- and Low-Energy Activities
Just in case you don't feel like doing any more research, here are a few ideas of how you can fill those off-days, depending on your energy level! (General cost is noted with a $$$=over $50 per person; $$=over $20 per person; $=up to $20 per person; FREE)
High Energy
If you have lots of energy and are prepared to go-go-go all the time, these suggestions are for you! This is probably best if you are adults traveling without kids, or if your kids are a bit older and wouldn't benefit from napping or down time at the hotel on your "off-days."
($$$-$$) Try a Disney World backstage tour. While most of these DO take place in a theme park, the experience is completely different. You can learn about how the parks and their attractions are conceived, built, and run. Even if it's your first trip to Disney World, any Disney fan will enjoy trying these out. Prices range from less than $20 to over $70 per person. Discounts are available, just ask about them when you call 407-WDW-TOUR to book.
($) Consider renting bikes and riding around the grounds and surrounding areas at one of Disney's Resort hotels. Our favorite place to rent bikes is Disney's Wilderness Lodge resort, where there's a great nature trail. You can even rent surrey bikes! Rent bikes at resort marinas; cost is usually about $9 per hour or $18 per day for an individual bike.
($$$) Learn to surf like a pro at Disney's Typhoon Lagoon! Guests 8 yrs old and up can sign up for surfing lessons that take place at Typhoon Lagoon before the park opens to visitors. Call 407-WDW-PLAY for more information on this opportunity. Cost is $150 per person.
Low Energy
If the early mornings and late nights are starting to wear on you and your family a bit, consider laying low for a day or two and sticking with some lower-energy activities. These might be best for families with little kids, people with mobility limitations, or just those of us who like to really take some time to relax while on vacation.
($$$) Head out for a little bass fishing. Most Disney World lakes offer private catch and release bass fishing boat tours. These depart several times per day, but, of course, the best fishing is in the morning. Call 407-939-BASS; cost is about $260 and includes an experienced guide, rod and reel, tackle, bait, beverages, and a one-year BASS membership.
($) Play a round of Miniature Golf. With four courses on property, you're sure to find one you enjoy!
(FREE) Spend the evening at Chip and Dale's Campfire Sing-a-long and Movie at Fort Wilderness resort. This is one of the ONLY times you'll see Disney characters without paying for a meal or to get into a park. The free perk is a fun opportunity that few folks know about. You can't make reservations; just show up at Fort Wilderness around 6:30pm in the Winter months (7:30pm in the Summer) and ask for directions to the campfire. This is best for people with little kids (the sing-a-long is definitely kid-focused and the movies on the big outdoor screen are all rated G), but adults can enjoy it too. Buy the "s'mores kit" and roast marshmallows over the campfire; it'll bring back memories. Additionally, several other resorts (including Contemporary Resort, Wilderness Lodge, Grand Floridian, Yacht and Beach Club Resorts, and All-Star Movies) now offer free "movies on the beach" many nights of the week.
Other Websites With Good Ideas for Activities Outside the Parks
There are definitely more options out there after these! Some great resources for researching these activities are the following websites and pages:
WDWforGrownups' Other Activities page offers dozens of links about activities outside the parks. These are categorized into easily navigable sections. Our favorite section is Leisure and Recreation, which includes links for golf, boating, arcades, horseback riding, bike rental, mini golf, archery, and more. While the website is geared toward adults, these links apply to families and those with children.
AllEarsNet.com's Beyond the Theme Parks page offers a comprehensive run-down of options, including some interesting writing and reviews done about Disney World activities by guest writers
Hopefully this helps as you round out your plans for your Disney trip! Remember, touring those theme parks can be tiring; consider taking a few days off during your trip. You may not even have enough energy for the activities above; don't forget that it's NEVER frowned upon to spend the day in a hammock or lounging by the pool. Those are the best free activities around!