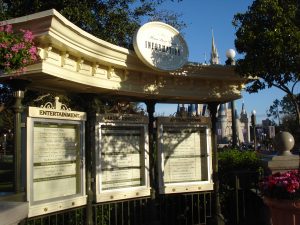 There are three things you should consider when deciding on Disney World Tickets: number of days you want in the parks, type of ticket that works best for you, and price.
Disney currently has a ticket system called "Magic Your Way." Much like Burger King's famous tagline, this ticket system has been created so that you can customize the tickets "your way."
The system begins with a basic "base" ticket. This ticket allows the ticketholder to gain entrance to one Disney World park, for one day. You can then pay more to build individual "options" onto this base ticket. We'll discuss those more in the section on ticket type.
NUMBER OF DAYS
How many days will you need to gain admittance to the parks? Consider:
How many days will you be in the Orlando area?
Do you want to go to a park on the day you arrive and/or the day you leave Orlando?
Do you want to visit the WDW parks every single day you're in Orlando, or will you be taking days to visit other theme parks in the area (Universal, Sea World, etc.)?
Once you've got this narrowed down, it should be clear how many days you'll plan to go through the entry gates at a Disney World theme park during your vacation.
TICKET TYPE
Magic Your Way Tickets and Options:
The Magic Your Way ticket system offers three different "add-ons" with which to customize your ticket. Disney does the ticketing system this way in order to be sure you don't have to pay for anything you don't want!
Here are the add-ons you can consider purchasing to customize your base ticket:
Park Hopper Option: "Park Hopping" is a term Disney uses for going to more than one park in one day. For example, if you wanted to go to the Magic Kingdom in the morning and Epcot in the afternoon, that would be considered "hopping" between two parks.Adding the Park Hopper Option on your ticket means that you can "hop" between the four Disney World theme parks as often as you'd like throughout your stay at Disney World.
No Expiration Option: If you don't purchase the no-expiration option, your Disney World ticket–and all the days you've paid for–will expire 14 days after you first use the ticket. This means that if you purchase a 7-day ticket and only go to the parks for one day, the remaining 6 days you've paid for will expire 14 days after the day you visited the park the first time. Unfortunate, but true.Should you purchase the no-expiration option, however, those 6 unused days can be used anytime you want–even years from now. It seems like a good deal, but it's a better deal make a really good estimate of how many days you want to spend in the parks and save the cash on the no-expiration option!
Water Park Fun and More Option: This option gets you free admission to Disney World's two water parks (Blizzard Beach and Typhoon Lagoon), DisneyQuest Indoor Interactive Theme Park (basically a giant arcade), Disney's Wide World of Sports Complex, and Disney's Oak Trail Golf Course for your stay.
Other Ticket Types:
While most visitors to Disney World choose to purchase Magic Your Way tickets, there are a few other ticket types that might be right for you:
Annual Passes: An annual pass is just that–a ticket that gets you into the Disney World theme parks every day for a year. These can be pricy ($649 at the moment), but if you're planning to take more than one trip to Disney World, be in the parks (with park hopping) for more than 12 days, or want to take advantage of several of the annual passholder discounts and perks, it might make sense to consider purchasing an annual pass. Here's a breakdown to determine if an annual pass might be right for you.Remember that even if you only go to Disney World once a year, if you schedule your trips 51 weeks apart, you can still use your annual pass for both trips. For example, if you go on vacation the second week of May 2009, simply schedule your next vacation for the first week in May 2010 and you don't have to purchase tickets again as your annual pass will still be valid!NOTE: Disney World also offers what they call a "Premium Annual Pass." This costs about $150 more than the Annual Pass, but allows unlimited entry to the DisneyQuest Indoor Interactive Theme Park, the two Disney Water Parks, and Disney's Oak Trail Golf Course.
Florida Resident and Seasonal Passes: If you are a Florida Resident, you could have the option to purchase seasonal annual passes and other discounted tickets. Check this Florida Resident page on the Disney website for more information.
PRICE:
"The longer you stay, the less you pay, per day."
You'll hear Disney advertising its tickets by saying, "The longer you stay, the less you pay, per day." This means that Disney's Magic Your Way ticket system is priced in a tiered system–you'll pay $85 for the first day in a park, $84.00 for your second day, $77.33 for the third day, and so on. By the time you get to ten days, you're paying only $29.10 for that tenth day in the parks. This is simply a marketing effort to get you to visit Disney World for more days than you might have originally planned ("Hey! Why not stay an extra day? It only costs $29 bucks!"), but it's a good one!
Here's the breakdown for an adult ticket (without tax, from http://tickets.disney.go.com on 4/14/12) to give you an idea of how the system works:
COST TOTAL COST
1 Day Ticket: $85.00 $85.00
2 Day Ticket: $84.00 $168.00
3 Day Ticket: $77.33 $232.00
4 Day Ticket: $60.75 $243.00
5 Day Ticket: $50.20 $251.00
6 Day Ticket: $43.17 $259.00
7 Day Ticket: $38.14 $228.00
8 Day Ticket: $34.38 $275.00
9 Day Ticket: $31.44 $283.00
10 Day Ticket: $29.10 $291.00
The Park Hopper, No Expiration, and Water Parks and More options work the same way; the more days you're staying, the cheaper they'll be per day.
Discounted Tickets: Disney doesn't discount tickets very much, but you can find a few dollars off here and there. We recommend purchasing from Maple Leaf  Tickets, a long-standing, authorized distributor of Disney tickets. Though their one and two day tickets don't offer a discount, if you have an extended trip planned to Walt Disney World, Maple Leaf Tickets is the place to go!
Just as an FYI: Here is Mousesavers' discount tickets page in full. This is a LOT of info (which is why I gave you the "nutshell" page above), but can be very informative if you have the time to read it.
That's pretty much the skinny on ticket-purchasing! If you have questions or comments, please let me know.