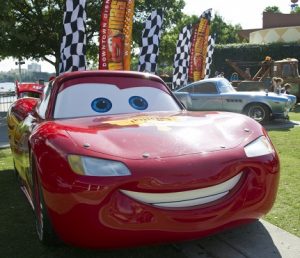 Summer officially begins at the Walt Disney World Resort on May 23 with the 24-hour 'Rock Your Disney Side' celebration.
The start-of-summer celebration takes place Memorial Day weekend at the Magic Kingdom and begins at 6 a.m. on May 23 and runs until 6 a.m. on May 24. The celebration will feature a variety of good-vs.-evil stories with character meet-and-greets, special merchandise, and special food and beverage items.
A week before summer "kicks off" at Disney, the Force will be strong with guests as the 2014 Star Wars Weekends begins May 16 at Disney's Hollywood Studios. The event runs every weekend until June 15 – which is one extra weekend than in previous years. A highlight of this year's event is the first-ever appearance by Luke Skywalker himself, actor Mark Hamill.
Celebrate Father's Day at Car Masters Weekend in Downtown Disney on June 14-15. The event features all things Cars, including the chance to meet Lightning McQueen and Mater. The weekend also includes a Cars and Cars 2 movie marathon at AMC Downtown Disney 24.
The summer celebration continues at Epcot with the Sounds Like Summer concert series in June and July.
This year's lineup includes:
June 8-14: Hotel California – A Salute to the Eagles
June 15-21: Don't Stop Believin' – Journey Tribute Band
June 22-28: Good Vibrations – A Tribute to The Beach Boys
June 29-July 5: Don't Look Back – Boston Tribute Band
July 6-12: Stayin' Alive – A Tribute to the Bee Gees
July 13-19: Slippery When Wet – The Ultimate Bon Jovi Tribute
July 20-26: 2U – A Tribute to U2
The Sounds Like Summer concerts takes place in the America Gardens Theater at 5:30, 6:45, and 8 p.m. Admission to the shows are included in Epcot admission.