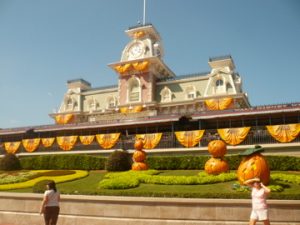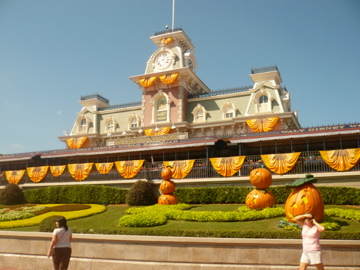 Fall is an amazing time of year to plan for your Walt Disney World Vacation. With the summer temperatures starting to taper off and kids headed back to school this is the season that many families choose to enjoy some enchanted activities all over the resort property. Disney Hotelroom prices are dropping and there's a plethora of special events happening all over WDW.
From September 11th – November 12th the Magic Kingdom plays host to Mickey's Not So Scary Halloween Party. The park is decked out in it's fall time finery and on special night Disney Villains come out to play at this hard ticketed event. During Mickey's Not-So-Scary Halloween Party, guests of all ages are encouraged to dress up in their favorite Halloween costumes and join in the festivities. You can collect delicious candy as you trick-or-treat around Magic Kingdom theme park, participate in dance parties, watch a very spooktacular Halloween Parade and Fireworks. One of Disney's most popular events, the Not So Scary Halloween party is a great way to celebrate the season while on vacation.
Over at Epcot fall means that it's time for the Epcot International Food & Wine Festival! Going on this year from September 28, 2012 to November 12, 2012 the Food & Wine Festival turns World Showcase into a culinary wonderland with Kiosks featuring food from over 60 nations. Access to the Food & Wine Festival is included in your theme park ticket, and you can stop by the Festival center to see what sort of hard ticketed events will be happening while you're in town. Cultivate your cooking skills. Savor a rare vintage. Enjoy an exhilarating outdoor concert. It's all part of this exciting yearly event!
At Downtown Disney November 9-11, 2012 is taken over by an Art Fair extraordinaire, the Festival of the Masters. This truly enchanting event dedicated to artists and art lovers features award-winning artists and entertaining experiences, this world-renowned show is a highly anticipated annual event. Do you adore the Art of Disney? There's no better time of year to add to your art collection than at this unique and entertaining festival.
runDisney is also hosting some fabulous Fall events in 2012 starting September 28 – 29 with the Tower of Terror 10 Miler where runner will brave dark and ghostly streets haunted then triumph as you finish at the Tower of Terror and ride Disney's Hollywood Studios attractions till 4:00 a.m. Then November 9 – 10, 2012 it's the Disney Wine & Dine Half Marathon Weekend Celebrating the Food & Wine Festival! This great half Marathon culminates in an exclusive after-hours party inside the Epcot® International Food & Wine Festival awaits. This race experience will be the ultimate "Runners' Night Out!"