When I was a young girl and my family would visit Walt Disney World, we always kept to a specific schedule that went like this Park Day/Rest Day/Park Day/Rest Day.  It was pretty easy way back the, when there was first just the Magic Kingdom, and then in 1982 there was Epcot to enjoy as well.  These days, with so many other exciting options available on your Walt Disney World Vacation, it's easy to forget how important it can be to take a rest day.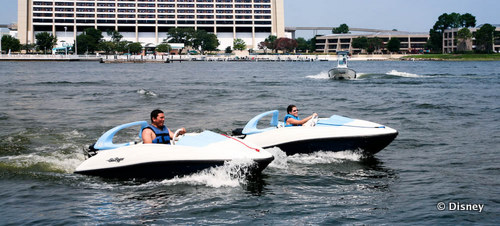 For my family a rest day doesn't mean, "do nothing", although just lying in a hammock on the beach is a definite possibility. For us a "rest day" means we're not going to be rushing through a park. Instead, we may sleep in a bit, take a dip in the hotel pool and then take advantage of the many other fun and entertaining options available at Walt Disney World Resort.
Adding a rest day into your schedule has many benefits, including allowing older members of your party to recover from a busy park day, exploring all the nooks and fun Disney has to offer as well as helping to save money by reducing the number of park day tickets needed.
Here are a few of my favorite "Rest Day" activities in no particular order:
Resort Hopping to figure out where I would like to stay next
Shopping at Downtown Disney with a movie at the AMC Fork & Screen
Relaxing with a swim and drinks by the pool
Interactive Gaming at Disney Quest
Horseback Riding or Renting a Boat
Heading to the Spa for a Massage
Playing a Round of Golf
Catching a Dinner Show like the Hoop-de-doo
Most of all a rest day should let you relax a bit and really take some time for yourself. After all, you are on vacation at Disney, and there's a whole world to explore. How would you like to spend your days that aren't in the Parks? Leave me a comment and let me know!