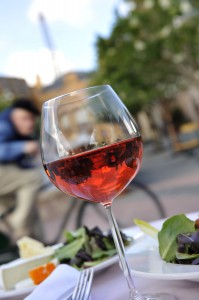 Now is a great time to start planning for the Epcot International Food & Wine Festival 2011!
To be held Sept. 30-Nov. 13, the 2011 Epcot Food & Wine Festival is a culinary mecca. Expect all sorts of free, low-cost and high-dollar wine and culinary events, as well as many booths at Epcot's World Showcase with food from all around the world. The Eat to the Beat! concert series is another fun extra, with music performances from well-known acts.
Take a look at 2010's festival guide, booths and menus, free and low-cost demos, and special and signature events to get an idea of what you can expect in 2011.  More solid information should become available in April, with the bulk of the details about seminars and events becoming available in July and August. Online booking for seminars will be available at that time.
So what you can do now? Book a room or Magic Your Way Package, and then at 180 days out from your check-in, you can begin making your dining reservations.
Currently, there aren't any special offers for room or dining discounts during October and November, but that doesn't mean that a new discount won't be announced between now and the start of the festival, so keep your eyes peeled.
Another thing you can do now is register for the Wine & Dine Half Marathon, to be held during Food & Wine opening weekend on Oct. 1. It's $145 until March 27, and registration includes a lot of cool goodies and entrance into the exclusive after-hours Epcot Food & Wine Festival party.
Have fun planning, and we'll have more info in a few months!