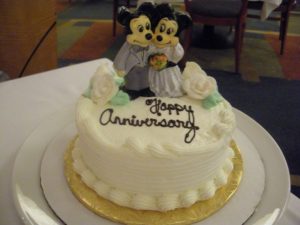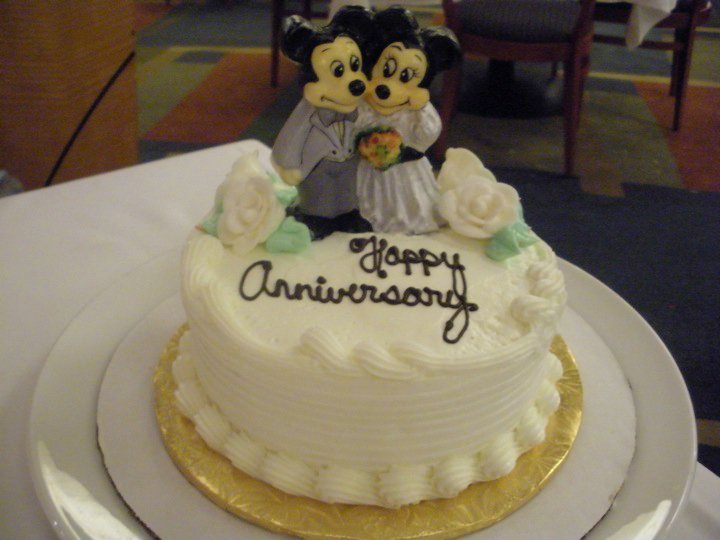 When you visit Disney World, odds are that you are celebrating something: a birthday, an anniversary, a new job, a honeymoon, a birth, a graduation, an engagement, your first visit, or just plain old quality time with your family. Available at nearly every table service restaurant, Disney World custom cakes can be the sweet ending to a meal and a surprise to a special someone who's with you at Disney World.
A variety of cakes and shapes are available, personalized for your special occasion. You can even get one in the shape of Mickey's head! The Disney World bakery asks for 48 hours advance notice. To order any custom bakery cake, call the Disney World bakery at (407) 827-2253.
The cake at right was presented at California Grill during a first anniversary dinner. The Mickey and Minnie are hand-painted white chocolate figurines.
Throwing a party for a special child? Personal-size party cakes are available as either Disney Princess Jewelry Box or Pirates Treasure Chest, with a special surprise toy.  These are available at most family table service locations.
Forget to order ahead of time? No problem. You can still order a plain 6-inch cake in chocolate or vanilla with no notice necessary. Just let a cast member know upon arriving at the restaurant. it's available at most of Disney World's table service restaurants.