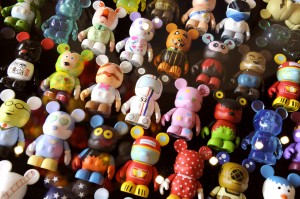 Vinylmation. What is it? It's the next wave in the Disney collector craze — a series of toys sold exclusively at Disney theme parks, beginning in 2008.
The figures all start out as a plain vinyl Mickey Mouse, then are transformed by artists to resemble various characters and objects from Disney theme parks and movies. Ranging in size, the typical Vinylmation is 3 inches tall, but some are available as 1.5-inch Vinylmation Jr. keychains or larger 9-inch figures.
Vinylmations are sold in series, with varying release dates and subjects. Series released so far include the Park Series, Urban Series, Muppets, Cutesters, Holiday, Sports, Toy Story, The Animal Kingdom, and more.
Some Vinylmation series are sold in clear boxes, so you know what you're getting ahead of time, while other figures are packaged in a "blind box" or "mystery box," which means you won't know which figure you are getting until purchased.
The mecca for Vinylmation purchasing and trading is D-Street at Downtown Disney, where product releases and events are held with Vinylmation artists. Aside from D-Street, Vinylmation can be found at many gift shops throughout Disney World, and some can be found at disneystore.com.
FAQ from Disney, including where to buy and trade Vinylmations at Disney World, can be found here.