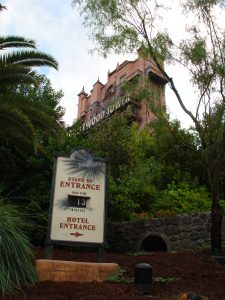 One of the first things a Disney World newbie should learn about when planning a trip is Disney's FASTPASS system. Utilizing the FASTPASS service can dramatically lessen the amount of time spend waiting in lines at the most popular attractions in the four theme parks.
Disney's FASTPASS is a way to "reserve" a 60-minute window of time during which you can return to the attraction and experience it with a minimal wait time. And the best part is that there's no added cost, though you may feel like a VIP as you receive the velvet rope treatment and get to saunter pass hundreds waiting in line, especially on busy days!
The first question Disney World guests usually have is, "How does the FASTPASS system work?" And the next is, "Which attractions offer FASTPASS?" We'll answer both of these questions here.
The FASTPASS system works with your park ticket, or for guests staying on Disney World property, your Key to the World card. The first thing you'll want to do is look for the "Disney's FASTPASS Distribution" sign outside your attraction of choice. Then, check the return time listed on the display above. That time tells you when you can return to experience the attraction if you choose to get a FASTPASS.
So, for example, if you arrive at Space Mountain at 10 a.m., and the return time listed is 12:30 p.m., then you can put your card in the FASTPASS machine, and it will spit out a paper card telling you that you can return between 12:30 and 1:30 p.m. for your minimal wait. Then you're free to experience other low-wait attractions or grab a bite to eat while you wait for your return time window. When you return, go to the FASTPASS line, show the cast member your FASTPASS ticket, and you're free to go — you VIP, you!
Keep in mind that FASTPASSes are only good for the day of issue. Also, there's a limit to how many you can have at one time. Be sure to look at your FASTPASS for the next time you'll be allowed to get another one. Don't waste time trying to rack up a bunch of FASTPASSes at multiple attractions because they will not be valid.
A tip: You can send everyone's ticket or Key to the World with one person in your party to get FASTPASSes for everyone.
The following attractions offer FASTPASS, though keep in mind that attractions sometimes add or take away the FASTPASS option based on popularity and season.
* denotes FASTPASS recommended.
** denotes FASTPASS highly recommended.
Animal Kingdom:
*DINOSAUR
**Expedition Everest
It's Tough to be a Bug
*Kali River Rapids
*Kilimanjaro Safaris
Primeval Whirl
Epcot:
Captain EO starring Michael Jackson
Living with the Land
Maelstrom
*Mission: SPACE
**Soarin'
*Test Track
Hollywood Studios:
Indiana Jones Epic Stunt Spectacular
*Rock 'n' Roller Coaster Starring Aerosmith
Star Tours
**Toy Story Mania!
*The Twilight Zone Tower of Terror
Voyage of the Little Mermaid
Magic Kingdom:
**Big Thunder Mountain Railroad
*Buzz Lightyear's Space Ranger Spin
*Jungle Cruise
*Mickey's PhilharMagic
**Peter Pan's Flight
**Space Mountain
**Splash Mountain
*The Many Adventures of Winnie the Pooh