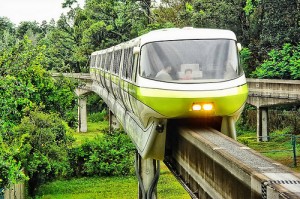 Disney World's Monorail is one of the most iconic features of the park. After the Epcot "Golf Ball" (Spaceship Earth) and Cinderella's Castle, the Monorail is probably the next thing that people think of as symbolizing Disney World. Unlike Disneyland's Monorail, Disney World's version actually serves a valuable purpose in the park. Instead of serving primarily as a ride, it is actually used as a form of transportation.
There are two monorails at the Magic Kingdom. One goes from the Transportation and Ticket Center to the Magic Kingdom. The other goes through several resorts as well as the TTC. In fact, both of the monorails actually go through Disney's Contemporary Resort. From the TTC, you can also ride a monorail to Epcot and back. This is a much longer trip, but once you're there you actually circle the park and get amazing views before you disembark.
Unfortunately, cost has been prohibitive in the expansion of the monorail system. Disney's newer parks, Disney's Hollywood Studios and Disney's Animal Kingdom are not serviced by the monorail system and there is currently no plans for them to be. Nevertheless, the monorail can provide a fun and convenient way to get around in Walt Disney World resort.
For more information about Transportation in Disney World check out our Free Guide to Disney World! The guide covers getting around and just about everything else you could want to know about.
Photo Credit: Express Monorail