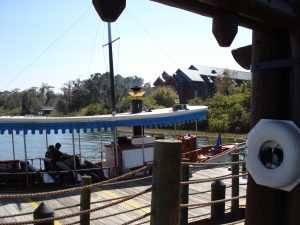 Regarding your Disney World transportation, you have three decisions:
1. How to get to Orlando
2. How to get to your Hotel
3. How to get around WDW
Let's take them one at a time:
HOW TO GET TO ORLANDO
There are plenty of options available to you for your trip to Orlando–many different roads lead to Disney World! The biggest considerations here are timing and cost.
Car
If you're lucky enough to be within what you consider driving distance, congrats! Driving to Walt Disney World gives you access to a car throughout your stay, which we find to be very useful. A car in Disney World is a great time-saver when staying on-property, and is virtually a must if you're staying off-property (i.e. outside of the complimentary Disney World transporatation system) or are planning to visit other Orlando and Florida attractions while on your vacation.
Driving is a good choice if your home base is near by, or if you're planning on making your Disney World trip into a larger "road trip," visiting other attractions along the way. If cost is a consideration in your decision, use the AAA Fuel Cost Calculator to determine whether driving is the best option for you.
Autotrain
Amtrak connections can get you to Orlando from just about anywhere, but the autotrain is a fun experience to take if you can!
The train runs from Lorton, VA, to Sanford, FL (close to Orlando), and you have the option to bring your car to Orlando as cargo, so you'll have that convenience when you're vacationing.
Cost on the autotrain is high–about $250 per adult for a ticket, and car cargo prices beginning at $380+. You'd be hard-pressed to find flights that are more expensive, so the autotrain should be reserved for folks who can't fly, larger families, or train-lovers who see this as an experience in itself!
Airplane
There are always good deals to the Orlando International Airport. Some of our favorite sites, like kayak.com gathers flight information and prices from hundreds of sites on the internet to give you a composite view of the availability. Other great spots for low-cost flights are Travelzoo and, for last minute trips, LastMinute.com.
Airlines that we always find are inexpensive to Orlando? Southwest and Airtran.
HOW TO GET TO YOUR HOTEL
This section is most important for those choosing air travel. If you've driven or taken the autotrain, you already have your car!
There are several options for airport transfer:
Rental Car
We're big fans of the rental car, because we like the ease of having a car on property. We find getting around Disney World to be very easy by car, and it gives us the flexibility to make choices and plans more spontaneously as Disney Transportation often takes some planning and time budgeting.
Rental car discounts are plentiful in Orlando, and many rental car agencies are located right at the airport–no shuttle busses necessary. Our favorite site for rental car discounts in Orlando is, once again, Mousesavers.com's rental car discounts page. It's kept up to date, which is extremely important when discounts have specific deadlines and timelines.
We've had very good luck at Orlando International Airport with rental car companies National, Budget, Alamo, and Avis. National offers its Emerald Aisle perk (don't stop at the rental car desk, just book online, pick your car, and go!) for free.
The most accessible rental car locations within Disney World are at the Car Care Center (Alamo and National), located next to the Magic Kingdom (Car Care Center Drive (407) 824-3470); and at the Dolphin Hotel, near Epcot (1500 Epcot Resort Boulevard (407) 934-4000). These are useful if you don't want to book a car for your whole stay, but need to use one for a day trip or a conference. Shuttle service is available to and from the Car Care Center location–just book at least an hour in advance.
Disney's Magical Express
If you're staying at a Disney World hotel, Disney's Magical Express Airport Transfer Service might be the perfect option for you! It's a free service (that's right; I said free!) offered by Disney World that transports you and your luggage, via coach bus, to your hotel from Orlando MCO airport. The greatest part is, you check your luggage in your departure city and it ends up in your hotel room later that day; you don't even have to collect it at the airport! Also, the bus schedules to pick you up at your hotel about 3 hours prior to your flight home.
The pros to this service are that it's free, and that you don't have to deal with getting your luggage from the airport to your hotel room. The cons are that you occasionally must wait for the bus to depart the airport, and you might have to wait while the bus makes several stops before arriving at your hotel. Also, your luggage often doesn't arrive until several hours after you do, so you need to bring any necessities in your carry-on bag.
Limo, Town Car, Shuttle, or Taxi
The final option for getting from the airport to your hotel is the "pay-your-way" option. There are many limousine and town car services operating in Orlando and specializing in airport transfers. There are also always taxis waiting for fares outside of the airport. And your hotel might have an airport shuttle that you can book. Additionally, Mears Transportation offers busses to and from Orlando International Airport (these are the same people with whom Disney contracts to provide Magical Express Transportation).
These options can be pricy–taxis will cost over $75, one way, with tip; town cars are around $130 plus tip round trip; and limos go up from there. Mears busses are the least expensive at $33 round trip per person (again, the service is free–via Disney's Magical Express–if you're staying at a Disney resort hotel). Some other companies I've personally used are Tiffany Towncars and Quicksilver Tours.
HOW TO GET AROUND WALT DISNEY WORLD
Finally, you need to determine how you'll traverse the 42+ square miles that make up Walt Disney World Resort Property.
Using Disney Transportation vs. Renting a Car
Disney offers complimentary resort transportation throughout the Disney World resort to any Disney World resort guest or ticket-holder. Transportation is via busses, boats, and monorail, and runs to and from all hotels, restaurants, theme parks, and Disney destinations like Downtown Disney and Disney's Boardwalk.
The web of options is wide and covers everything you might need. However, getting from here to there could take one or two bus, monorail, or boat transfers, which means you need to budget about one to two hours for travel time each time you move throughout the property. When you're on a short vacation and have limited time, or if you have little ones who need to get back to the hotel for a nap before a melt-down, this type of wait might be unacceptable.
I have traveled to Disney World both with and without a rental car and have found that renting a car offers me much more flexibility on my vacation. However, if you're on a budget trip, sticking with Disney transportation is a more than satisfactory way to get around property. In fact, we find it really fun and interesting to meet other Disney fans on busses, chat with the knowledgeable captains on Disney transport boats, and ride the monorail around the resort loop just for fun!
Whether you choose to rent a car or not, the transportation wizard put together by Our Laughing Place travel is a great resource. Simply choose your starting point and destination, and the wizard will show you your Disney Transportation route choices along with estimated travel times. It's a truly great resource!
Also, if you're still stuck, here's an article debating the merits of renting a car vs. using Disney Transportation from All Ears Net.
Hopefully this has helped you come to conclusions on another few of those critical decisions involved in planning a Disney trip. For a quick-reference, here's Disney World's Transportation FAQ page.