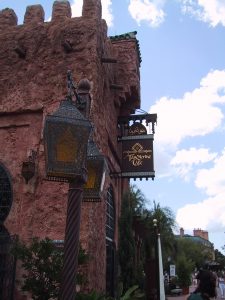 There's more to know about Disney Dining than the names of the restaurants. In this section, we'll discuss:
Making Advanced Dining Reservations
Disney Dining Plans
Tables in Wonderland Dining Discount Card
Other Dining Discounts
Character Meals
MAKING ADVANCED DINING RESERVATIONS
There are lots of dining options inside and outside of WDW property. If you want to try Disney restaurants, it makes sense to make reservations–even if you're traveling during a slow season.
Making reservations (which Disney currently calls "Advanced Dining Reservations," or ADRs) is quick and easy. Simply call 407-WDW-DINE, answer a few voice-activated questions, and you'll be transferred to a dining agent who will book your meals for you.
You can also book online, using the Disney World Website. Simply click on this link, find the restaurant that interests you, and click the booking button.
At this time, you may make a dining reservation at most Disney restaurants up to 180 days in advance of your meal there. If you are staying at a Disney Resort during your time in Orlando, you may call 180 days in advance of your arrival date and make dining reservations for up to 10 days.
I'll refer you again to Mousesavers, as they have a fantastic and in-depth page about advanced dining reservations. Some restaurants and dining experiences, like the Polynesian Resort Luau and Fort Wilderness' Hoop Dee Doo Revue, allow a longer pre-booking period. We suggest you use the PS Calculator–this stands for "priority seating" calculator, as Advanced Dining Reservations were previously referred to as priority seating arrangements. This calculator will determine the dates you should call for your reservations based on your arrival date.
DISNEY DINING PLANS
Once you're familiar with the Disney World dining reservation procedure, be sure to read here about Disney's Dining Plans. These are plans you can add onto a vacation package (and only a vacation package–you cannot book a dining plan with a room-only reservation), essentially pre-paying for your meals. Plans usually include a set number of pre-paid snacks and full meals, which you may use according to your timeline throughout your stay. This usually presents a cost savings for most guests.
At this time, Disney offers the following plans:
For more in-depth information about the Disney Dining Plans and to compare one plan against another, visit the AllEarsNet Disney World Packages page
TABLES IN WONDERLAND DISCOUNT CARD
The Tables in Wonderland Card (formerly referred to as the Disney Dining Experience) is an annual membership available to Florida residents or Disney World annual/season passholders for $100 and $75 respectively.
The membership allows cardholders to recieve 20% off food and beverages (including alcohol) at most Disney World restaurants and lounges. Cardholders are also entitled to free valet parking at resorts if they are dining there.
For more information about how to order the Tables in Wonderland card, call (407) 566-5858 (Monday – Friday, 9 am – 6 pm EST).
OTHER DINING DISCOUNTS
Disney World offers other dining discounts to other membership groups as well, including annual passholders, Disney Vacation Club members, Florida residents, AAA members, and others. Mousesavers.com has the most detailed information on their dining memberships page.
Also, due to the tourist industry in Orlando, many restaurants in the Orlando area have signed onto discount and coupon programs. This might be the best way to save some cash on your Disney trip–or just enjoy a night away from the Mouse.
CHARACTER MEALS
Whether you're young or not-so-young, it can be fun to "dine with the characters!" You can have breakfast with Mickey, dinner with the Fairy Godmother, or even lunch with Donald! There are many more experiences to be had–check out the Disney Information Station's list of character dining experiences.