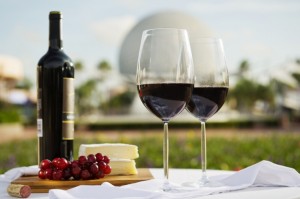 The 2016 Epcot International Food and Wine Festival kicks off September 14 and runs for 62 days until November 14.
Recently Disney released some new information about what guests can expect at this year's festival.
For the second year in a row the festival marketplace booths will spill over into Future World. While there is no official list of all the booths for this year we can confirm that Greece, Florida Fresh, and the Desserts & Champagne booths are returning.
Guests can enjoy a new savory vegan dish at the Greece marketplace, new savory dishes that highlight "Florida's bounty" at the Florida Fresh booth, and hard soda floats at the Desserts & Champagne booth.
The lineup for this year's Eat to the Beat concerts includes Wang Chung, Delta Rae, Toad The Wet Sprocket, Wilson Phillips, and Boyz II Men. The concerts kick off September 14 with Wang Chung.
Celebrity chefs signed on for this year's festival include Cat Cora, Norman Van Aken, Masaharu Morimoto, Buddy Valastro, Rock Harper, and more.
The new "Mix It, Make It, Celebrate It!" slate of workshops will teach guests how to mix cocktails, decorate cake, or kick up a dish's flavor with herbs.
Guests can enjoy The Chocolate Experience: From Bean to the Bar and the Back to Basics weekend series at the Festival Center.
Other events planned for this year's festival include the Rockin' Burger Block Party, an updated Party for the Senses, and new premium resort events like a Grand Floridian brunch.
For the most up-to-date information on the 2016 Epcot Food and Wine Festival make sure you visit the Disney Food Blog's Epcot Food and Wine Festival page.