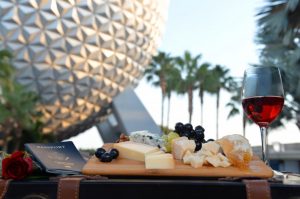 The 20th Epcot International Food and Wine Festival has officially started! This year's festival is seven weeks of fun, food, and wine!
The Epcot Food and Wine Festival includes more than 35 Marketplace Booths in World Showcase – and for the first time ever, several booths will also be located in Future World.
These booths include the new Chew Law and Sustainable Chew booths, both of which were inspired by the ABC daytime hit show The Chew. Two other booths in Future World are the Wine Studio and the Cheese Studio. These two booths are dedicated to the art or wine and cheese pairings.
Our friends at the Disney Food Blog have menus, photos, and prices posted for every Marketplace Booth at the Festival.
In addition to the food and wine, the Festival also includes Special Events such as the Rockin' Burger Block Party, Cheese Seminars, Beverage Boot Camps, and the always-popular Party for the Senses.
Guests will also want to check out the low-cost seminars and demonstrations at this year's Festival.
For the most up-to-date information on the 2015 Epcot Food and Wine Festival including reviews, menus, prices, and more visit the Disney Food Blog's Epcot Food and Wine Festival section.
The 2015 Epcot Food and Wine Festival runs through November 16.