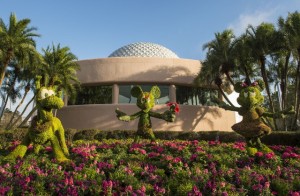 The 2015 Epcot International Flower & Garden Festival kicks off in just over a month and we have some more news about what's new this year at the festival.
The Outdoor Kitchens are returning again and a new Kitchen is joining the Festival – the Botanas Botanico kiosk. It'll be located between France and Morocco in World Showcase and guests will find Cachapas with Farmer's Cheese, Seafood Ceviche, and a non-alcoholic punch called La Tizana.
The topiaries this year will include Disney's first topiaries of Frozen's Anna and Elsa. They'll be located in a Frozen-inspired garden filled with white and silver blooms. The entrance garden vignette – Goofy About Spring – will feature topiaries of Goofy, Daisy, and Pluto.
This year's festival will feature 10 new gardens including a healing-and-health garden, a dinosaur plant garden, a pepper garden, and a Shakespeare garden.
The Flower & Garden Festival concert series is getting a new name this year – the Garden Rocks Concert Series – and some new acts will be performing including En Vogue, Little River Band, and Pablo Cruise. The concerts take place every Friday, Saturday, and Sunday night through the festival in the America Gardens Theater.
The 2015 Epcot International Flower & Garden Festival starts March 4 and runs for 75 days until May 17.