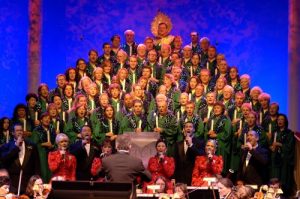 Bookings for the 2014 Candlelight Processional Dining Packages are now available.
The dining packages for the Candlelight Processional includes: lunch or dinner at select Epcot restaurants and guaranteed seating to the Candlelight Processional.
The 2014 Candlelight Processional is scheduled for November 28 through December 30 this year, and is performed three times each night (5 p.m., 6:45 p.m., and 8:15 p.m.).
The program includes the telling of the Christmas story by a celebrity narrator who is accompanied by a 50-piece orchestra, and a choir of Disney cast members and special guests.
The restaurants participating in this year's Candlelight Processional dining package are: Biergarten, Chefs de France, Coral Reef, Garden Grill (dinner only), La Hacienda de San Angel (dinner only), Nine Dragons, Restaurant Marrakesh, Rose and Crown, San Angel Inn, Teppan Edo, Tokyo Dining, Tutto Italia, and Via Napoli.
This is the tentative list of celebrity narrators (subject to change):
Jodi Benson – November 28 and 29
TBD – November 20 to December 2
TBD – December 3 and 4
Whoopi Goldberg – December 5 and 6
TBD – December 7 and 8
TBD – December 9 to December 11
TBD – December 12 to December 14
Sharon Stone – December 15 to December 17
Ana Gasteyer – December 18 to December 20
Marlee Matlin – December 21 to December 23
TBD – December 24 and 25
TBD – December 26 and 27
Steven Curtis Chapman – December 28 to December 30
For more details on the Candlelight Processional, visit the Disney Food Blog's Disney World Candlelight Processional Dining Package page.
Call (407) WDW-DINE or (407) 939-3463! Booking is also available online.