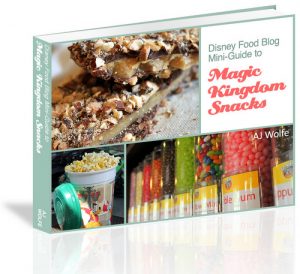 If your next trip to the Walt Disney World Resort includes a visit to the Magic Kingdom, you'll want to pick up the new edition of the Disney Food Blog Guide to Magic Kingdom Snacks e-book.
This instantly downloadable e-book is a PDF guide full of photos, information, and advice on more than 150 snacks at the Magic Kingdom. The e-book also includes current prices and Disney Dining Plan snack credits in addition to tips, tricks, "hidden treats," and Disney Food Blog reviews of the snacks.
This new edition of the DFB Guide to Magic Kingdom Snacks e-book includes at least 50 more Magic Kingdom snacks than the last edition! And, for easy access as you tour the park, you can put the instantly downloadable PDF on your smartphone or tablet.
Right now, the DFB Guide to Magic Kingdom Snacks e-book is priced at the original 2013 price and Disney Food Blog readers can get $2 off the price by using the code MAGIC14 at checkout. This is a limited-time discount, so order your copy today!
To see more details about the DFB Guide to the Magic Kingdom Snacks e-book visit the DFBStore.com.