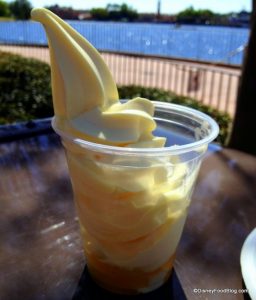 This year's Epcot International Flower and Garden Festival will once again feature the Outdoor Kitchens and our friends at the Disney Food Blog have the inside scoop on the menus.
If you've never visited during the Flower and Garden festival, the Outdoor Kitchen kiosks are similar to what guests find at the Epcot International Food and Wine Festival, serving small plates and delicious beverages.
One new kiosk for 2014 is the Urban Farm Eats kiosk which will be serving produce grown in Epcot's Living with the Land gardens in addition to farm-raised fish.
Menu items at Urban Farm Eats include Land-grown eggplant scallp with romesco sauce and spaghetti squash, ghost pepper dusted tilapia with winter melon slaw, pickled beet salad with goat cheese cream, and more.
Intermissions Café can be found at the Festival Center and the menu includes fruit and cheese plates, vegan trio, southwest chicken wrap, tuna salad with pita, caprese push pop, and more.
The Pineapple Promenade kiosk returns for a second year and it's the one place where guests can snack on a Dole Whip topped with Myer's Dark Rum or Parrot Bay Coconut Rum. At the Fleur de Lys kiosk guests will find dishes inspired by French cuisine and fresh produce.
Other Outdoor Kitchens include: Taste of Marrakesh, Hanami (home of Frushi in 2013), The Smokehouse Barbecue and Brew, Primavera Kitchen, Lotus House, Jardin de Fiestas, and Florida Fresh.
You can find full menus, photos, and reviews at the Disney Food Blog.
Thanks to our friends at the Disney Food Blog for use of their photo!