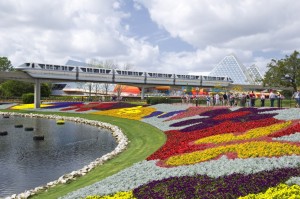 The Epcot International Flower and Garden Festival returns to Walt Disney World for the 21st year this March, and The Muppets are set to join in the fun.
Kermit the Frog and Miss Piggy get their very own topiaries at this year's event as Disney gets ready to celebrate the release of the new film Muppets Most Wanted this spring.
The 75-day festival will feature more than 100 topiaries in addition to magical gardens and exhibits.
The front entrance topiary will feature Goofy, Donald Duck, and Daisy Duck as they celebrate spring with a butterfly hunt adventure. The garden will also feature a waterfall and pond with water lilies.
Kids will love Mike & Sulley's Monstrous Garden that will feature a play land of activities. Other topiaries include Mickey Mouse and Peter Pan. Tink's Butterfly House also makes a return to the festival this year.
Returning for a second year are the 11 Outdoor Kitchens which will be tempting guests with sweet and savory eats including The Land-Grown Eggplant "Scallop" with Romesco Sauce, Ghost Pepper Dusted Tilapia with Winter Melon Salad and Mango Chutney, and more.
The Smokehouse BBQ Outdoor Kitcehn will be featuring Piggylicious Bacon Cupcakes and Smoked Turkey Ribs, while the Watermelon Salad with baby arugula, feta cheese, and balsamic reduction will be available at the Florida Fresh Outdoor Kitchen.
Stars from HGTV and the DIY Network will be appearing each weekend at the Festival Center where they'll be hosting home, garden, and design seminars.
And each weekend guests can dance to the groovy sounds of bands from the 60s and 70s at the Flower Power Concert Series. Bands scheduled to appear include Gary Lewis and the Playboys (This Diamond Ring), The Alan Parsons Live Project (Eye in the Sky), The Guess Who (American Woman), The Village People, and Chubby Checker & the Wildcats.
For more information on the 21st Epcot International Flower & Garden Festival visit www.epcotinspring.com.