In just a little over a month from now one of Disney's most popular special events will kick off once again.  I'm talking about that mecca of foodie bliss, the 18th Epcot International Food & Wine Festival.   This elite gathering of all things delicious kicks off at Walt Disney World's Epcot theme park on September 27th and runs for a staggering 46 days until the curtains come down November 11, 2013.  The annual event features 30 Marketplace booths, wine & beer tastings, culinary seminars & demonstrations, celebrity chefs, and a rockin concert series.  Much of which is included in your theme park admission!
With so much to see and do, the Food & Wine Festival can become a little overwhelming even to the experienced Disney traveler, but our friends over at Disney Food Blog have got you covered.  Not only do they have up to date reporting on all things F&W on the blog, but today they just published a mini-guide to take all the stress out of planning your touring strategy for the event.  With all the answers right at your fingertips we're thrilled share with you "the grand launch of the DFB Guide to the 2013 Epcot International Food & Wine Festival e-Book!"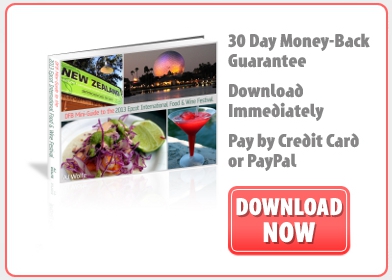 The unstoppable AJ Wolfe shares her knowledge and expertise in over 190 pages of Food & Wine Festival entertainment, activities and events.  Plus, this fantastic guide is just in time because the booking window for special events opens on August 13th!  Inside you'll find absolutely everything you need to know about Food & Wine Festival gathered into one place.
A daily schedule of events including seminars, tastings, demos, and concerts
A World Showcase Marketplace Booth Menu Checklist with detailed information and full color pictures to help you decided which booths to stop at.
Fun Themed World Showcase booth crawls to help you find your favorites.
Customized Touring Strategies for One Day visits, Budget-Conscious visits, visits with kids, and more.
Full food, wine, beer, winery, and chef indexes, including dates and locations of where you can find all your favorites.
Music playlists for the Eat to the Beat Concerts
Epcot Food and Wine Festival recipes
And so much more!
It's all in this handy downloadable file that's easily installed onto your mobile devices to take along with you.
To celebrate the launch of this new e-book there's even a discount code.  You can get the new mini-guide for $3 off the regular purchase price for a limited time — just use code CHEFS at the check-out!  As always there's a 30 Day 100% money-back guarantee if you're not satisfied with your purchase.  So what are you waiting for?  Go download your copy today!