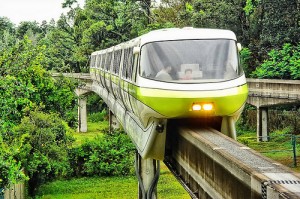 What is the best way to get around the Walt Disney World resort? Well, there really isn't a "right" answer to that question – it really depends on how much time you're willing to spend on travel and what options you have.
If you drove to Disney (or rented a car at the airport), you can always use your personal vehicle to get from place to place. Any time my family has driven to Disney we actually park the car at the resort and never move it again until the day we leave. But we like the complimentary resort transportation offered by Disney. And, after driving 18 hours from Ohio, it's nice to leave the driving to someone else for a week.
There are pros and cons to resort transportation. Sometimes the buses are running behind and you can spend 20 minutes or longer waiting at the resort for a bus to arrive. And during the busier times of the year, the bus lines at the parks are very long and it can take up to an hour (or longer!) to get back to your resort. On the flip side, it's nice to be able to walk out of your resort, hop on a bus, and not worry about finding a parking spot. If you're going to use the Disney bus system you need to understand that it can take more than 20 minutes to get to a park from your resort – depending on the location of the resort. It's not the fastest mode of transportation but it's not a bad way to get around.
This "transportation wizard" from OurLaughingPlace.com is a great tool when you're trying to figure out travel times at Walt Disney World.
If you're lucky enough to be at one of the Monorail resorts (Grand Floridian, Polynesian, Bay Lake Tower, Contemporary), getting to and from the Magic Kingdom and Epcot is relatively easy. You just hop on the Monorail. That's your only option. To get anywhere else from these resorts you must take a bus. From the Wilderness Lodge, I would recommend taking a boat to the Magic Kingdom – it's more relaxing than the bus ride at any time of day. And, if you're at The BoardWalk Inn and Villas, the Yacht Club or the Beach Club you're within walking distance to both Epcot and Hollywood Studios, but you can also take a Friendship Boat.
For more information on travel inside Walt Disney World check out this FAQ page.