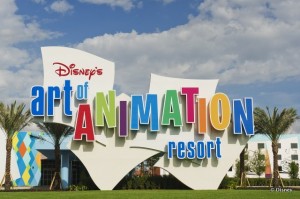 Every now and then the basics of Walt Disney World vacation planning are changed in such a significant way that it changes the game forever.  Sometimes it's a new park,  a ground breaking savings deal, or a new annual event.  This year Disney changed the game by opening it's newest Value priced Resort across the bridge from Disney's Pop Century, it's Disney's Art of Animation.
This three-story, value-priced resort tells the story of the animation process. It will immediately transport guests into the worlds of favorite Disney characters and animated films beginning at check-in as pixilated patterns and wavy ribbons of bold colors decorate the resort's exterior.  The resort features 1,120 family suites that will sleep up to 6 as well as 864 standard hotel rooms located in four unique wings of the resort.  Guests can enjoy immersed by environments inspired classic Disney movies such as "Finding Nemo", "Cars", "The Lion King", and "The Little Mermaid".
"Kids of all ages can make a splash at the "Big Blue" pool, the largest resort swimming pool at Walt Disney World Resort measuring 11,859 square feet.  Guests will feel like they are swimming with Dory and Nemo as underwater speakers periodically pipe in music and messages from film characters."  This gated pool require a resort chipped RFID room key, so don't plan on pool hopping over here.  Grown ups at the Big Blue Pool can indulge in a cocktail from "The Drop Off" Pool Bar while they enjoy lounging in the sun or play a game of ping pong at the community tables set up near the bar.   That's not the only place to take a dip though though because this new resort also feature two lovely quiet pools in the courtyards of the "Cars" and "Little Mermaid" wings.  The Pixel Play Arcade, and Ink and Paint gift shop round out entertainment offerings.  Take note that kids will especially enjoy the daily character artist in the "Finding Nemo" lobby, and nighttime movies poolside.
Dining options at the Art of Animation include a poolside snack bar, pizza delivery and Landscape of Flavors food court. Open for breakfast, lunch and dinner, the food court features items such as fresh smoothies, hand-scooped gelato and Mongolian barbecue. Original backgrounds from featured films decorate the walls in the dining area, adding to the attention to detail and sense of immersion.
Those staying at Disney's Art of Animation Resort are treated to complimentary transportation, Extra Magic Hours and other benefits available to a Disney Resort hotel guest.  All in all Disney's Art of Animation is a fantastic family Resort, that steps up the hotel game as the first on property with RFID controlled room keys, personal attention at check in, and lots of suites for large families.
I've made my reservation for a Disney Vacation here, what about you?