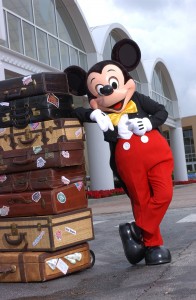 For many coming to stay at Orlando hotels near Disney World, one of the first steps in the planning process is deciding how you will get there: fly or drive?
Many families across the Southeast, Midwest and Northeast choose to make the trek via their own car. There's lots of upsides to this — no high airfare costs, no limit on luggage, and a way to transport yourself within Disney World once you arrive. Here are a few tips and tricks to help you on your way:
–Get to know Orlando-area roadways. If you don't have a GPS device, consider investing in one now to show your progress and lead you to your destination. And while a GPS device can lead you to your destination with just an address, it's also helpful to get to study a map of the Orlando area and your route beforehand.
–Consider a Sunpass. Florida has an abundance of toll roads. A common misconception is that Sunpass devices are available only to Florida residents. That's not the case — any vacationer is welcome to buy a device and preload tolls onto their account. You can buy a Sunpass at several retail and AAA locations in Florida. Another great tip: Sunpass devices are also compatible with E-Pass, the toll system of the Orlando-Orange County Expressway Authority that controls some Orlando toll roads.
–Consider less-traveled routes. Interstate 4 is a busy thoroughfare that connects I-95 on Florida's east coast to I-75 on Florida's west coast. It can clog up with traffic during rush hour and during peak travel times of the year. If you're traveling south on I-75 and Florida's Turnpike, consider taking the 429 Western Beltway toll south toward Disney World. This less-busy thoroughfare travels along the western side of Walt Disney World and has an exit very close to Disney's Coronado Springs along Western Way, and another along Highway 192. If traveling from I-95 onto I-4, consider taking the 417 Greeneway toll road south from Sanford to avoid traffic along the busiest parts of I-4 at rush hour. It connects with Osceola Parkway for easy access to the south side of Walt Disney World.
–Go shopping! By this, we mean take advantage of your own transportation and stop at a grocery store or superstore along the way to pick up items for your trip. You'll save money on snacks, drinks and travel essentials!