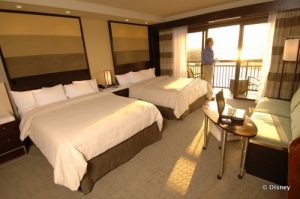 There are many factors to consider when choosing which Walt Disney World Resort Hotel is best for your Orlando vacation, but one of the most important to my family is space. There's nothing we like less than tripping over each other in the room and even though all Disney rooms have great design, sometimes you just need more square feet.
Standard Value Room
260 square feet, sleeps 4
Value Family Suite
520 sq ft, sleeps 6
Standard Moderate Room
314 sq ft, sleeps 4-5
Standard Deluxe Room
344 – 470 sq ft most sleep 5 but not all
There advantages to more square footage at a Disney resort as well, because a larger room area also means you'll have a greater amount of bathroom, closet and storage space. Many people don't think about it when planning, but when four people are trying to get ready in the morning, the double sinks of moderate and most deluxe hotels can be a huge help.
With more square footage, the deluxe rooms and most of the moderates also feature queen size beds rather than doubles. This can be an important consideration when unrelated adults and older children need to share beds during travel.
The largest standard deluxe rooms can be found at the Polynesian resort, with their newer buildings having the most of all. The smallest deluxe rooms are found at the Animal Kingdom Lodge and Wilderness Lodge Resorts.
For a reasonably priced room with the feeling of more space, try a moderate resort such as Port Orleans. More space in the bedroom area gives Disney moderates the larger feel of the smaller deluxe resorts, however you may be cramped getting ready in the morning.
Though space is important, you need to know that you'll pay nearly 3 times more per square foot for a deluxe room than a value room. The reason for this comes not only in the upscale décor and linens, but with the amenities offered in the overall resort. Deluxe rooms cost more because their resorts offer more to do right at your hotel.
No matter where you stay on Disney property you'll have a great time.  I hope this helps you choose a place to spend your Walt Disney World Vacation and gives you a better idea of what you're getting in your Disney guest room.