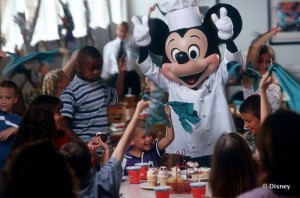 Recently some of our readers have posed the question to me "Do we Really Need ADRs?" The answer to that can be somewhat complicated, as there are many different dining option, special events, and seasonal considerations. However I believe that if you want to eat at a "sit down" or "table service" restaurant then yes, you really do need to take advantage of the Advance Dining Reservations (ADRs).
Advanced Dining Reservations can be made for all Walt Disney World restaurants where you are seated at a table and served. ADRs can be made starting 180 Days out from your selected date.   If you are staying at a Walt Disney World Resort You can make your ADRs at 180+10 from your arrival date at the resort.   It can be hard to know where you want to eat in six months, but having a reservation for something (especially during high crowd levels) is better than being left with nothing.
To view at menus for Table Service Restaurants at Walt Disney World before you reserve a seat, you can visit both The Disney Food Blog, and AllEars.net, for up to date information to help you decide which restaurants you would enjoy most.
To make your Advance Reservations you can talk to your travel agent, use Disney's online reservation system, or call Disney Dining at 1 (407) WDW-DINE.
Once You Have ADRs Keep These Things In Mind:
Some restaurant experiences (Such as Cinderella's Royal Table, Siprit of Aloha Luau, and Hoop-dee-doo Revue) require payment in advance to secure an ADR.
ADRs at select restaurants are subject to a "no show" fee, so make sure you cancel 24 hours in advance if you want to change your plans. WDW For Grownups has a great article on the new cancellation policy.
ADRs do not have to be set in stone. You are at liberty to change them as many times as you would like.
For smooth dining during your Orlando Vacation be sure to book your advanced dining reservations as soon as possible.  During less crowded times of the year I have been able to walk in at restaurants, and make or change my ADRs at the last minute.  Sesaonal changes impact heavily on if you will be able to walk up and get a table without reservations, when it comes to ensuring that your family can enjoy a relaxing meal, ADRs are the way to go.