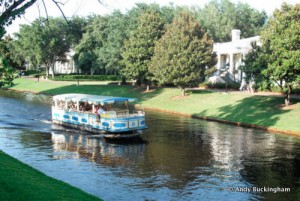 No matter if you've booked room only or if you've got a package deal for your Walt Disney World Resort vacation; if you're staying at Port Orleans, Old Key West, or Saratoga Springs Resorts, you have a unique treat in your transportation to Downtown Disney.   The complimentary ferry service on the Walt Disney World waterways offer a fun alternative mode of transportation to buses.   These relaxing and often beautiful journeys by boat can offer great way to spend some time on a non-park day as you travel to the shopping and entertainment center of Downtown Disney.
Port Orleans:
The Sassagoula River Cruise is a gentle 2 ½ mile journey from Port Orleans to Downtown Disney down the Disney created river, and takes about 20 minutes one way.  The service begins at 10am daily and runs about every 20 minutes until 4:30pm when more boats are added to the route and it then runs every 10 minutes until 11pm.  This route is marked with Yellow Flags and departs from the Downtown Disney Marketplace dock (left-hand queue line).
Saratoga Springs Resort:
Hourly service is provided from 11:00am thru 4:00pm, and at 4:00PM a second boat is added and service becomes available every half hour. Blue Flags mark the Saratoga Springs Service that departs from Downtown Disney Marketplace dock (right-hand queue line).  This includes the Tree house villas dock.
Old Key West Resort:
Green Flagged boats can be found departing from Pleasure Island dock.  The last boat leaves Old Key West at 11:00pm and then leaves Downtown Disney for it's final trip at 11:30pm.
Downtown Disney Internal Water-Shuttle: There is also a local water shuttle at Downtown Disney (with red flags and signs) that operates and will take you from the Marketplace dock to the other end of the complex at the West Side dock.
All Walt Disney World boat service operates subject to local water and weather conditions.  Service may temporarily cease operating if lightning storms are forecast or water levels are too high.  Operational times were current at the time of publication, but may change and fluctuate to accommodate seasonal crowd changes.
Thanks so much to Andy Buckingham for his beautiful creative commons picture of the river boat.