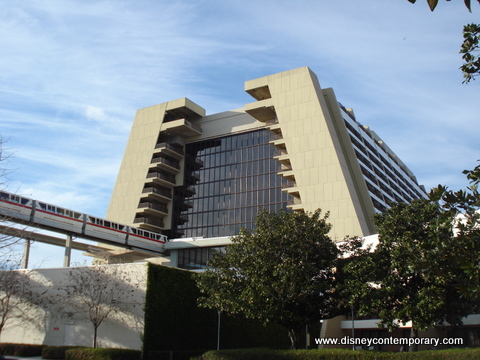 Today we'll take a look at another great unofficial Disney resort fan site featuring a Walt Disney World Resort Hotel.  Today's featured fan site is "Tribute to Disney's Contemporary Resort" which is located at http://www.disneycontemporary.com.  I love the trend of these resort fan sites popping up across the web, and this one is no exception.  It's sleek style and easy to use navigation makes this site fantastic.
The Contemporary is one of Walt Disney World's original deluxe hotels, and is located just outside the gates of the Magic Kingdom.  Room views from this resort are spectacular; from the fireworks of the Magic Kingdom to the lovely Bay Lake it's simply breathtaking.  The resort also offers a wide variety of dining options for it's guests.  Not to mention, it sits right on the monorail line for easy access to anywhere.
Tribute to Disney's Contemporary Resort,  is a fantastic resource available to help you decided if this is the right resort for you and  your family.  It offers hundreds of photographs and articles advising on every corner of this Disney Classic.  The site even offers information that features the newest Disney Resort addition of the Contemporary's Disney Vacation Club property, Bay Lake Tower.  It's a great tool for comparing the Contemporary Resort to other Disney Deluxe Resorts before you book your Disney Vacation Package.
Stop by the tribute site and see what you think of this Disney classic.  I believe it to be home to some of the most popular restaurants and lounges on property.  Though the resort has occasionally struggled over the years with how to maintain a "contemporary" edge without feeling dated, I believe the Disney's Contemporary Resort is currently at it's pinnacle of modern elegance.
This post was part of the Disney Blog Carnival #36!
Stop by the Carnival and join all the fun!