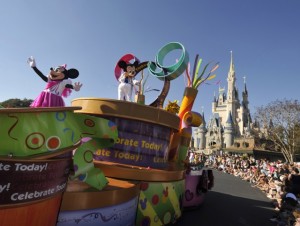 If watching the parades at  the Magic Kingdom are on your must-do list, then it's good to do a little research to find out a good vantage point for you and your family.
The first thought would be to watch the parades from Main Street USA. But many suggest other places to watch to avoid crowds.
Frontierland is a popular spot for the afternoon parades, as they start here. As soon as the parade passes, you can hit up the rides in Adventureland and pretty much have them to yourself while everyone else is still waiting for the parade to reach them.
If you absolutely must be on Main Street to watch, try across from the bakery on Main Street for the afternoon parade — it's shady, and you can grab a treat beforehand!
If you'd like to dine while you watch, the Disney Food Blog has a list of the best restaurants to watch the Magic Kingdom parades. Be sure to snag a table near a window or in an outdoor area for the best view!
Do you have any tips for the best spots to watch the Magic Kingdom parades? Leave a comment below!