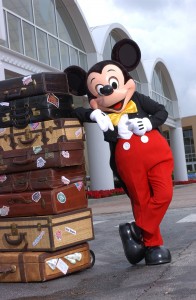 Interested in checking in online for your stay at Walt Disney World? If you're looking to get in quickly and get on your way to the fun, online check-in is a great way to go. Here's how it works:
Online check-in is available 10 days ahead of your arrival time. Sign in at disneyworld.disney.go.com, and look for the orange suitcase and and "My Disney vacation" near the top left.
During the online check-in process, you'll provide the same information you do during in-person check-in: Name, room requests, address, phone number, and credit card.
Once you arrive at your Disney World resort, proceed to the online check-in desk and show your ID. Your welcome folder with resort info and room keys will be waiting for you. Most report that the process takes 5 minutes or less.
Keep in mind that standard check-in times still apply — if you arrive early, you may still have to wait to be placed in your room.
Disney World Mom's Panel member Allison V. explains the online check-in process here.
Have you used Disney World's online check-in service? What was your experience like? Leave a comment below!